Guo Baolin's purchase order - Qingdao Bay Bridge
The pros and cons of testing instruments and equipment directly restrict the accuracy of testing data. Tens of thousands of products in the instrument and equipment market with mixed quality test the purchasers. How to cut out the complicated and simplify, and cultivate a pair of discerning eyes? Guo Baolin, head of Qingdao Bay Bridge Engineering Technology Research Center, knows this well. From a purchase list drawn up by him, we can understand the hard work and sweat behind this engineer who always advocates "throw grass and beat rabbits—multitasking with one mind".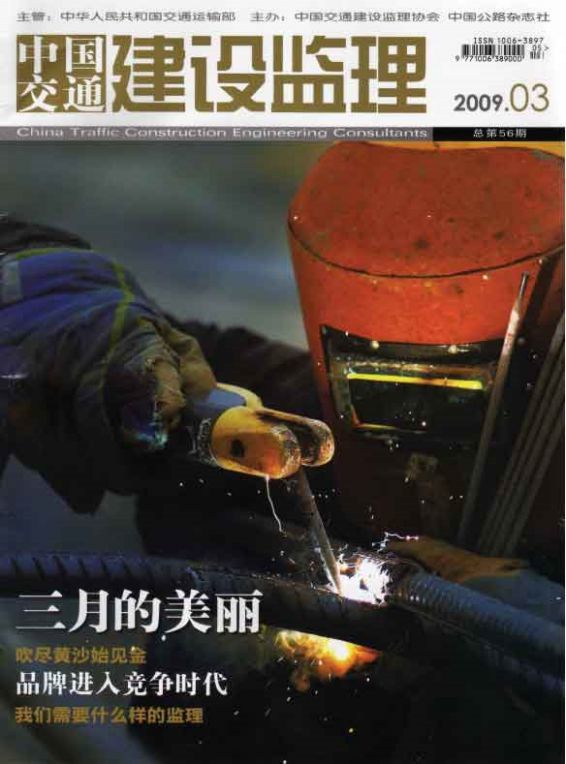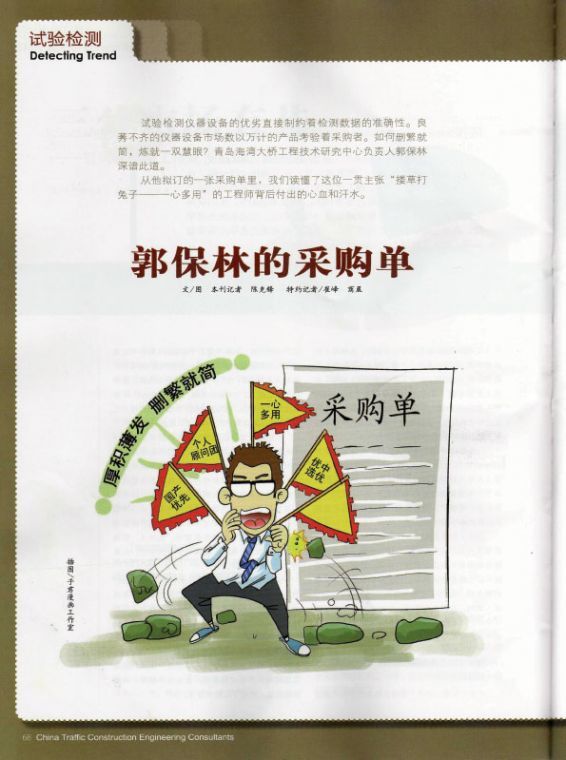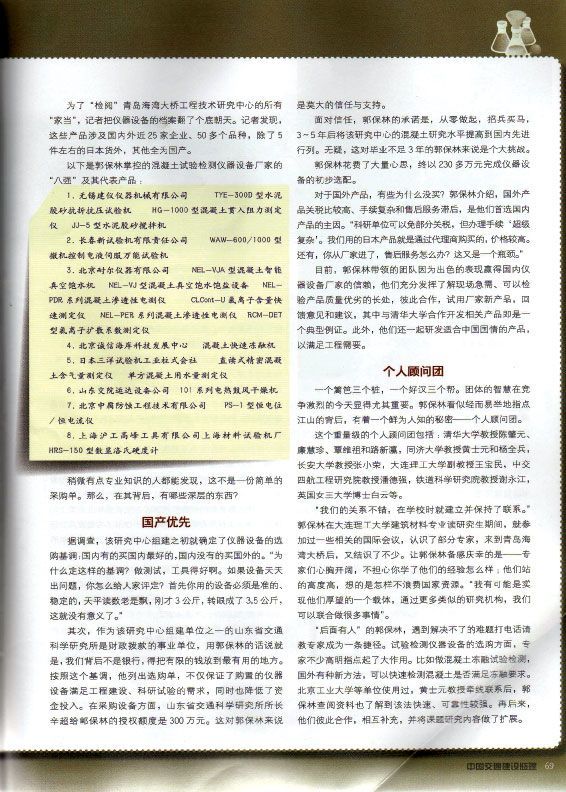 The pros and cons of testing instruments and equipment directly restrict the accuracy of testing data. Tens of thousands of products in the instrument and equipment market with mixed quality test the purchasers. How to cut out the complicated and simplify, and cultivate a pair of discerning eyes? Guo Baolin, head of Qingdao Bay Bridge Engineering Technology Research Center, knows this well. From a purchase list drawn up by him, we can understand the hard work and sweat behind this engineer who always advocates "throw grass and beat rabbits—multitasking with one mind".
  In order to "inspect" all the "possessions" of the Qingdao Bay Bridge Engineering Technology Research Center, the reporter turned the files of the instruments and equipment upside down. The reporter found that these products involved nearly 25 domestic and foreign companies and more than 50 varieties. Except for about 5 pieces of Japanese products, the others were all domestically produced. The following are the "top eight" and their representative works of concrete testing and testing equipment manufacturers controlled by Guo Baolin:
  1. Wuxi Jianyi Instrument Machinery Co., Ltd.
  TYE-300D cement mortar flexural compression testing machine
  HG-1000 Concrete Penetration Resistance Tester
  JJ-5 cement mortar mixer
  2. Changchun New Testing Machine Co., Ltd.
  WAW-600/1000 Microcomputer Control Electro-hydraulic Servo Universal Testing Machine
  3. Beijing Naier Instrument Co., Ltd.
  NEL-VJA Concrete Intelligent Vacuum Saturator
  NEL-VJ Concrete Vacuum Water Saturated Salt Equipment
  NEL-PDR series concrete penetration tester
  CLCont-U Chloride Ion Content Rapid Tester
  NEL-PER series concrete penetration electric tester
  RCM-DET Chloride Ion Diffusion Coefficient Meter
  4. Beijing Chengxin Coast Technology Development Center
  Concrete quick freeze-thaw machine
  5. Japan Sanyo Testing Machine Industry Co., Ltd.
  Direct-reading precision concrete air content tester
  Single-square concrete water consumption meter
  6. Shandong Jiaoyuan Yunda Equipment Co., Ltd.
  101 series electric blast dryer
  7. Beijing Zhongfu Anti-corrosion Engineering Technology Co., Ltd.
  PS-1 type constant potential / constant current instrument
  8. Shanghai Hugong Gaofeng Tools Co., Ltd. Shanghai Material Testing Machine Factory
  HRS-150 Digital Rockwell Hardness Tester
  Anyone with a little professional knowledge can find that this is not a simple purchase order. So, what are the deep things behind it?
  Domestic priority
  According to the survey, at the beginning of the establishment of the research center, the basic tone of the purchase of instruments and equipment was determined: some domestic ones buy the best domestic ones, and domestic ones do not have to buy foreign ones. "Why do you set such a tone? To do the test, the tools are good. If the equipment fails every day, how can you evaluate it? First of all, the equipment you use must be accurate and stable. The balance readings are always floating. Just now 3 kg, In the blink of an eye, it becomes 3.5kg, which makes no sense."
  Secondly, as one of the establishment units of the research center, the Shandong Institute of Transportation Science is a public institution funded by finance. In Guo Baolin's words, we are not behind a bank, and we have to put limited money where it is most useful. According to this tone, he listed the purchase list, which not only ensures that the purchased instruments and equipment meet the needs of engineering construction and scientific research experiments, but also reduces capital investment. In terms of purchasing equipment, the director of the Shandong Provincial Institute of Transportation Science authorized Guo Baolin an amount of 3 million yuan. This is a great trust and support for Guo Baolin.
  In the face of trust, Guo Baolin's promise is to start from scratch, recruit troops, and improve the concrete research level of the research center to the domestic advanced ranks in 3 to 5 years. Undoubtedly, this is a big challenge for Guo Baolin who graduated less than 3 years ago.
  Guo Baolin spent a lot of thought, and finally completed the preliminary selection of equipment for more than 2.3 million yuan.
  As for foreign products, why didn't they buy some? Guo Baolin said that foreign products have higher tariffs, responsible procedures and lagging after-sales service, which are the main reasons why they prefer domestic products. "Scientific research units can be exempted from some tariffs, but the procedures are 'super complicated'. The Japanese products we use are purchased through agents, and the price is relatively high. Also, if you buy from the manufacturer, what about the after-sales service? This is another one. bottleneck."
  At present, the team led by Guo Baolin has won the trust of domestic instrument and equipment manufacturers because of their outstanding performance. They give full play to their advantages of understanding the urgent needs of the site and being able to test the advantages and disadvantages of products, cooperate with each other, try new products of manufacturers, and give feedback and suggestions. Among them, Tsinghua University Cooperating to develop related products is a typical example. In addition, they also jointly develop products suitable for China's national conditions to meet the needs of the project.
  Personal Advisory Group
  A fence with three stakes, a hero with three gangs. The wisdom of the group is especially important in today's fierce competition. Behind Guo Baolin's seemingly easy guidance, there is a little-known secret-personal advisory group.
  This heavyweight personal advisory group includes: Professors Chen Zhaoyuan, Lian Huizhen, Qin Weizu and Lu Xinying from Tsinghua University, professors Huang Shiyuan and Yang Quanbing from Tongji University, professor Zhang Xiaorong from Chang'an University, associate professor Wang Baomin from Dalian University of Technology, and Ph.D. Baiyun et al.
  "We have a good relationship, and we established and maintained contact in school." Guo Baolin participated in some related international conferences when he was a graduate student majoring in building materials at Dalian University of Technology, and met some experts. I got to know a lot. What makes Guo Baolin feel very fortunate is that the experts are open-minded and don't worry about how you learn from their experience; they stand at a high altitude and think about how not to waste national resources. "I have the potential to be a vehicle for realizing their high hopes. Through more similar research institutions, we can jointly do a lot of things."
  Guo Baolin, who has "someone behind him", has a shortcut to call experts for advice when encountering unsolvable problems. In terms of the purchase of test and testing instruments and equipment, many experts have played a big role in their guidance. For example, to do concrete freeze-thaw test, there is a new method in foreign countries, which can quickly detect whether concrete meets the freeze-thaw requirements. Beijing University of Technology and other units have used it. After being contacted by Professor Huang Shiyuan, Guo Baolin checked the information and learned that the method is fast and reliable. Later, they cooperated with each other, complemented each other, and expanded the research content of the topic.
  Hugging the Grass and Hitting the Rabbit - Multitasking
  "When I was studying in Dalian, I cleaned up all the instruments in the teaching and research section. After sorting them out, I searched them on the Internet to find out where they are good. I went to Lanzhou, because I was a newcomer, so unfortunately I did not participate in the equipment purchase work, but I still studied the equipment list carefully. Then I asked experts for advice, and I asked Professor Lian Huizhen the most. She has taught, done specific projects, and done For relevant training, she has contacted many people or new things; including her Tsinghua University, she has frequent external contacts, and she will always notify me in time if there is any new product with high cost performance."
  Guo Baolin, who has always advocated "throwing grass and beating rabbits—multitasking with one mind", has completed relevant intellectual preparations during his studies.
  In 2004, when he was a sophomore in graduate school, at an international academic conference, Guo Baolin, who spoke on behalf of his supervisor, met Professor Lian Huizhen. A sentence said by the old professor benefited him all his life. "She said, you can't think of yourself as a simple student now, but as a researcher. Don't keep thinking about it, if you can't figure it out, ask someone else, think about it, how to solve this matter yourself "Guo Baolin has a lot of ideas personally, and Lian Huizhen asked him, "Have you put your ideas into practice?"
  From senior experts in the industry, Guo Baolin learned an important point - you have to solve some things by yourself.
  When Guo Baolin came to Qingdao Bay Bridge in February 2007, he did not think of buying equipment at that time. The establishment of the research center was also the result of the intention of the leaders of both parties and his "little idea". At that time, Guo Baolin was seconded from the Shandong Transportation Research Institute to the Chief Engineer Office under the Bridge Construction Headquarters, which exercised his ability to communicate with experts. At the exchange meeting, the experts gave examples of what happened to other projects at home and abroad, how you should pay attention, and so on. "I am in this field, so I will write it down for later use. I even write down their thoughts, and of course the content of the communication also includes testing."
  Ready to configure the equipment, experts recommend three or four manufacturers to Guo Baolin, he has been to several factories in Beijing. "Before you decide to buy, you must understand many aspects. It is best to go to the manufacturer for an on-site inspection. If you sign the contract, you don't want it. If you go, you can ask them to provide a list of users. I will call to ask how the product quality is. After-sales service How is the service? By comparison, we can have a general understanding, so I will report the list to the leader."
  The list submitted by Guo Baolin is not the only one. For example, when buying a press, list two or three manufacturers, how other people evaluate this product, what is the price, and what are the functions? It is recommended to choose the old factory Changchun New Testing Machine Co., Ltd. In his opinion, it is not that the old factories do not want to make progress, and the rising star manufacturers should also consider it. The most needed anti-seepage and anti-freeze equipment on the bridge are the top products on Guo Baolin's purchase list. The sea area of ​​Jiaozhou Bay where the project is located not only has high salinity, but also has severe freeze-thaw cycles. If these two items are well controlled, the quality of the project will be guaranteed, but only if the equipment is good. For example, anti-seepage equipment, some units find it unsatisfactory to use, because it is in accordance with the method stipulated in the regulations, the equipment may be fine, and the method of use may be problematic. The research center is equipped with 4 types of anti-seepage equipment: electric flux meter, RCM tester, NTB-492 tester and NEL tester, and various methods are compared horizontally. best of the best
  "If everyone is as professional as you, wouldn't some equipment manufacturers die?" The reporter jokingly raised this question.
  Guo Baolin became serious, and asked back: "If I still take care of its survival, how can I survive? It's okay for everyone to make money, but if you can't make a good product, how can I recognize you?"
  It costs less to buy equipment, and less trouble to use it. This is the experience of Guo Baolin, who is merciless to the manufacture of inferior products.
  In addition, Guo Baolin emphasized one point-selecting the best from the best, and checking in person is an important part.
  Guo Baolin has seen some of the test and testing equipment across the country. In his opinion, some companies are really good at doing it, but some are not. For example, the equipment of the Beijing Chengxin Coast Technology Development Center, he has verified at the user unit, the China Institute of Water Resources and Hydropower Research, and the after-sales service is good. If there is a problem with the equipment, he will first see a doctor online. "The China Institute of Water Conservancy and Hydropower Research has used it for many years, and the quality should be reliable. Since many people have eaten Coptis chinensis and told you that Coptis chinensis is bitter, when it is our turn, we can lick it a little and know the bitterness. There is no need to eat too much. "
  Guo Baolin visited the Institute of Building Materials of Tsinghua University, the test centers of Tongji University and China Communications Fourth Aviation Engineering Research Institute, and some equipment manufacturers in a targeted manner, and made a general understanding of the effect of the products and whether there are any problems. Up to now, Guo Baolin has not bought the "parallel imports" that fell into his hands, because "I was bothered to buy them at that time".
  So, how do novice purchasers avoid risks in the first place and avoid detours? Guo Baolin thinks this problem is a bit difficult. He said that if you have to buy for a novice, it should be the first choice to consult a scientific research institute that "does well and has little selfishness". The research center not only recognizes the scientific research and testing tasks of Qingdao Bay Bridge concrete, but also "by the way" provides good internship opportunities for the students. By the end of 2008, they had accepted 20 undergraduates, postgraduates and doctoral students from Chongqing University, Ludong University, Dalian University of Technology, Tsinghua University, Hohai University, and Karlsruhe University in Germany. Or joint research, or joint training, or on-site internship, all benefited quite a lot.
  "Tell them what I know, including the information obtained from experts, so that they can avoid detours as much as possible after they get to work." This is Guo Baolin's true heartfelt voice.
  link>>>>>>
  Qingdao Bay Bridge Engineering Technology Research Center is established by Shandong Hi-Speed ​​Qingdao Highway Co., Ltd. and Shandong Transportation Science Research Institute. It has more than 200 sets of instruments and equipment, all of which are internationally advanced or the best in China. precise.
  The research center provides fair, impartial, scientific and rapid inspections for civil engineering construction units around the concrete technical problems encountered in the future and has been encountered during engineering construction, so as to prevent unqualified materials from entering the physical project; carry out targeted research, Provide technical support for the decision-making of the construction headquarters.
  At present, the main work completed by the research center includes concrete frost resistance test, concrete impermeability comparison experiment, concrete summer construction mix ratio optimization, solid structure concrete frost resistance durability evaluation, the influence of anti-corrosion coating age on concrete performance, Principles for selecting grouting materials for permanent supports of prefabricated box girders, and organizing concrete experts to conduct technical training on marine concrete. The work to be carried out includes research on the application of air-entrained technology in prestressed concrete, research on the impact of construction technology on the durability of structures and countermeasures, and a feasibility study on the evaluation of the frost resistance of solid structures by the bubble spacing coefficient.
---